Indica [500mg] (ISH Flavored Distillate Disposable Pen)
From an aesthetic standpoint, the appearance of the ISH pen is very modern and sophisticated. As with any O.penVAPE product, the design has been thoughtfully cultivated and appeals highly to cannabis consumers. Even better, the ISH pen's design is very subtle and discreet, allowing new or wary consumers to enjoy their cannabis under the radar. This is especially important for new consumers who may feel out of place identifying with "stoner culture."Indica [500mg] (ISH Flavored Distillate Disposable Pen) is available here in our store for sale.
The ISH pens are also very small and can be held in the palm of a hand without anyone noticing, making them ideal for any on-the-go-consumer.
We also found the mouthpiece to be an improvement from the regular O.penVAPE cartridges. If you've ever purchased one, you may know the plastic mouthpiece can sometimes detach in your pocket and create a bit of an annoyance factor. The ISH pens have a one-part mouthpiece and store great in your pocket – almost all of our reviewers commented on this aspect of the design.
In addition to the elements mentioned above, our review team also enjoyed the silver colouring on both the pen and cartridge. Combined with their small profile and relative ambiguity, the sleek, silver finish really adds an element of refinement to the pens. The ISH pens would effortlessly blend in at a dinner party, gala or any other formal event just as well as they would on your friend's couch. From a novice's perspective, the versatility in the ISH pen's design is certainly amongst the top percentile of products.
Value
Retail price varies between dispensaries for the ISH pens, but Organa Brands has suggested an MSRP of $20 for their 250mg pens and $30 for their 500mg pens. These prices are pretty competitive with other flavoured distillate products and not too expensive for something with non-cannabis-derived terpenes.
Because of their above-average usability and performance, the ISH pens are definitely a good choice in terms of value. Some flavoured distillate pens are cheaper, but in our opinion, the performance and consistent vapour production are worth the extra couple bucks.
Keep in mind the ISH cartridges are not reusable (the batteries are rechargeable and reusable though) so if you're looking for a refillable product then these may not be for you. That said, the quick and effective pens are perfect for anyone needing to consume with ease and have high value in portability and functionality.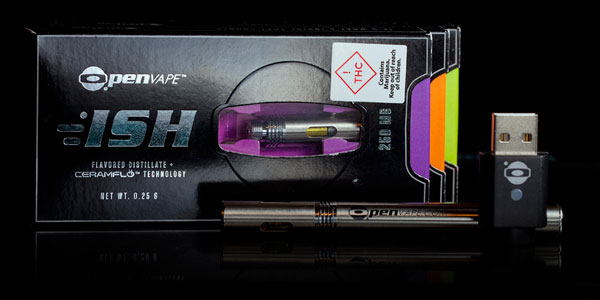 Flavour
As fans of true cannabis taste, we have to admit that our team had mixed feelings about trying the flavoured options of the ISH pens. However, after sampling each flavour (Bavarian Cream, Raspberry, Watermelon) we were pleasantly surprised by the results. For your edification, we'll go over each flavour.
Bavarian Cream
Perhaps the most intriguing option of the three flavours, our review team didn't know what to expect of the Bavarian cream. And aside from a few cream-filled doughnuts in the past, our palates didn't really know what flavours to anticipate.
Thankfully, after a few pulls of the pen, we were all enjoying the sweet, flavorful vapour of the indica-laden Bavarian cream. The flavour is strong, robust and has a nice velvety-smooth finish. Bavarian cream is definitely a flavour you don't see often in vape cartridges and has an appeal to those who are interested in something equal parts savoury and sweet.
Raspberry
Moving onto the Sativa variety of the ISH pens, the raspberry flavour was quite enjoyable – although it might come off a bit sweet to anyone who isn't fond of sugary or candy-like flavours. Taking a puff from the raspberry flavour provides a quick burst of sweetness that takes hold of the palate almost instantly, making it a great choice for beginners because the taste is not as intimidating as cannabis.
Watermelon
Out of all three flavours, the watermelon was our personal favourite. Representing the hybrid variety of the ISH pen, the watermelon flavour is a classic taste that reminds us of many sweet treats and desserts we once enjoyed as kids.
Same with raspberry, the watermelon flavour is inviting for both novices and experts alike who want to experience a different taste in their cannabis products.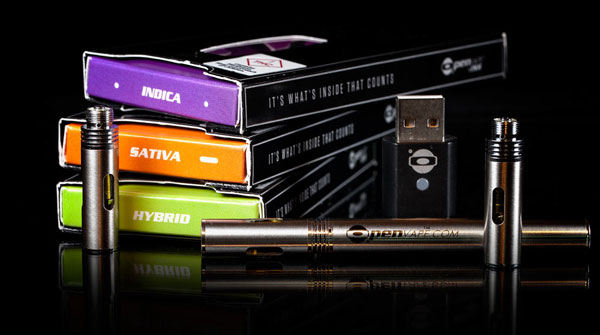 Effect
As mentioned above, the ISH pens come in India, Sativa and hybrid varieties. Since, as we all know, indicas, sativas and hybrids all produce different effects, we'll break down our effects category to accommodate a review for each.
Indica
The effects from the indica pen were on par with what you might expect from smoking an Indica-dominant flower. A mellow high slowly creeps up while an enhanced state of euphoria sweeps over your entire body. The indicia ISH pen is perfect to unwind after a long day or take the edge off during stressful situations.
Because there are no cannabis-derived terpenes, the high did feel slightly different than consuming flower or full-spectrum concentrates. This may be an issue for connoisseurs or anyone looking to experience a true entourage effect from terpenes.
That being said, fans of indicas will almost certainly enjoy this variety of the ISH.
Sativa
We found the Sativa ISH pen to be the truest high of all three varieties, offering an upbeat high that had us motivated and energized for the better part of an hour. Be wary though, this pen comes very close to a racy high so if you aren't a fan of heavy sativas you may want to stick with the indica or hybrid option.
Nevertheless, the Sativa ISH pen was a heavy hitter and came on strong. The high concentrated on the head and mind, but as the time passed we began to feel mildly sedative properties extend throughout the body.
Hybrid
The hybrid ISH pen provided a nice, clean high that came on pretty quickly to the body and lasted for several hours. While not extremely motivating, the high was very relaxing and calming and allowed us to stay productive throughout the day.
Fans of both Indica and Sativa will enjoy the hybrid ISH pen as it touches on several aspects of each species. This pen would be great for beginner consumers as it provides mild euphoria with the ability to ramp up effects with every puff.
Overall
We really enjoyed our experience with the O.penVAPE ISH. They are a great way to consume in a time crunch or on-the-go and are truly welcoming to new or beginner consumers. And because they have three different flavour and effect profiles, there truly is a pen to suit everyone's preferences.
If you're a fan of flavoured distillate or simply want to enjoy some fun and tasty flavours, stop by your local dispensary to pick up a couple of cartridges!